Could Cold Laser Be a "Secret Weapon" for Sports Performance and Recovery?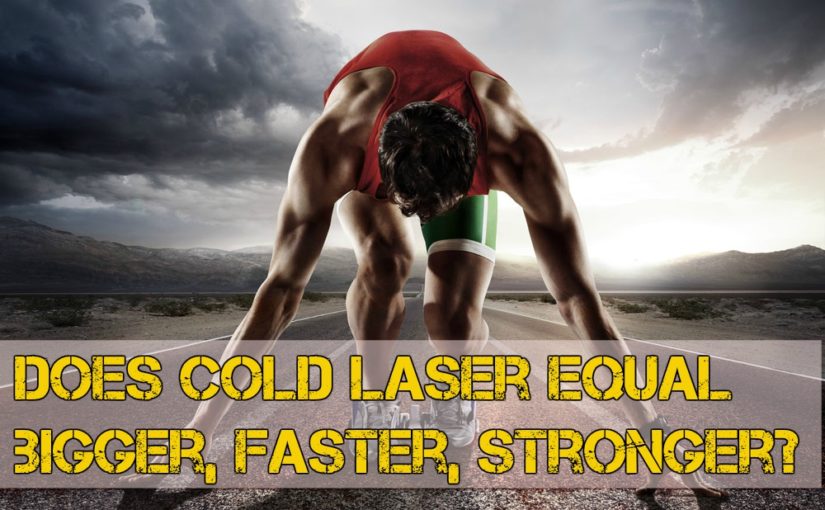 More Strength? More Speed? Less Soreness? Faster Recovery? And without illegal performance enhancing drugs?
Sounds too good to be true, but that is what many studies have concluded that Cold Laser therapy can do for athletes looking to get a competitive edge.
One study even found the results to be so beneficial that they questioned if they should even be allowed to be used for performance boosting purposes!
Since 2004 I have been using Erchonia Cold Lasers on some of the top local high school and college athletes in Southern California, and also on many pro athletes from various sports. Most came in initially for an injury, but what always amazed me was how many would stay because they said they performed much better when they got laser compared to when they did not.
At first I thought it might be a placebo effect, as I had not seen any studies to support this idea. However, as patients conducted their own 'experiments' of playing in a game without laser therapy, and comparing their results of performance after laser, I consistently heard from the athletes that they felt 1) faster, 2) stronger, 3) better endurance, and 4) better recovery.
So out of curiosity I looked for research that might support these findings.
I found this study published in the Journal of Biophotonics from Dec 2016, which had such good findings that they actually said, "We raise the question of whether PBM should be permitted in athletic competition by international regulatory authorities."  (https://www.ncbi.nlm.nih.gov/pubmed/27874264)
Wow! So good they were not sure it should even be permitted! (PBM by the way stands for 'photobiomodulation,' which is another word for a specific type of cold laser therapy).
They found that laser therapy "can increase muscle mass gained after training, and decrease inflammation and oxidative stress in muscle biopsies".
Even more recently, the March 2017 edition of the International Journal of Sports Physiology and Performance found that "LLLT increased time-to-exhaustion in competitive cyclists, suggesting this intervention as a possible non-pharmacological ergogenic agent in cycling." (https://www.ncbi.nlm.nih.gov/pubmed/28422520#)
They found that the lower total energy dosage in the study was MORE effective than a higher energy dosage (measured in joules/cm2).
In yet another study, this time in the Journal of Strength and Conditioning Research from Dec 2016, the results found "Photobiomodulation  therapy significantly (p ≤ 0.05) improved the average time of sprints and fatigue index in BST. Photobiomodulation therapy significantly decreased percentage of change in blood lactate levels (p ≤ 0.05) and perceived fatigue (p ≤ 0.05)." (https://www.ncbi.nlm.nih.gov/pubmed/27050245)
Could lasers really make you stronger?
This study from the Nov 2016 journal Lasers in Medical Science found just that. They stated that "With an apparent lack of side effects and safety due to no thermal damage to the tissue, we conclude that the application of phototherapy yields enhanced strength gains when it is applied before exercise. The application may have additional beneficial value in post-injury rehabilitation where strength improvements are needed."    (https://www.ncbi.nlm.nih.gov/pubmed/27371449)
This is just a small nugget of the studies supporting just how good properly used cold lasers are if you are an athlete looking to get an edge on the competition, or if you are a parent looking for a way to safely and legally get your kids a leg up.
The problem with it is that unfortunately there are not many doctors out there who really know how to use their lasers, or who may have the wrong kind of laser for this type of treatment. However, if you can find someone who is well trained and has the right kind of laser, the results can be amazing.
Hopefully in the future this will be more commonplace, as my biggest problem I see for my patients has been when they go off to college, even Division I schools, and the medical staff there is still treating people in 2017 with the same technology and methods from the 1970s.
Not saying there is anything wrong with those methods, but the athletes are missing out on some amazing, safe, non-invasive methods and they always report back to me that they wished they could find someone near their school who used lasers like this.
I have had kids fly back from Texas, Florida, New York, and all over the country when they are on break specifically to get a "laser tune up" to get back into top gear. So if you are a doctor, I highly recommend you look into this amazing technology so you can help more patients that need this. And if you are a player or parent, it might be worth your time to try this kind of therapy out and see what your results are.