Should Hashimoto's Patients Get Flu Shots, Or Will It Make You Worse?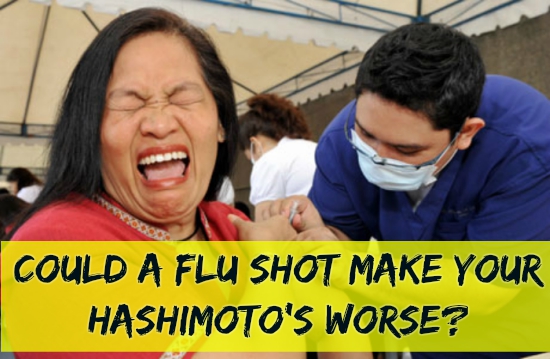 Boy, talk about a hot topic that gets emotions flaring!
Any medical procedure you do has a risk to benefit ratio, and you have to consider that to see if you think it is worth doing. With this post I am just going to lay out the facts so you can make an informed decision about what you think is best for you.
You already know what the benefit can be of the vaccine, so let's look at what the risks would be for an auto immune person.
First off, I highly recommend that before you get any shot that you read the insert. Inserts for all the flu vaccines can be found on this page. http://www.nvic.org/vaccines-and-diseases/Influenza/Influenza-Vaccine-Package-Inserts.aspx
The info there will tell you exactly what is in the vaccine, such as the preservatives and adjuvants, and also provide you with a list of what the potential reactions are to the vaccine, as well as what percentage of people had reactions in their trials.
Here is what the FluMist vaccine insert said about patients with underlying illness getting their vaccine:
"The safety of FluMist Quadrivalent in individuals with underlying medical conditions that may predispose them to complications following wild-type influenza infection has not been established."
So basically they do not know if it can make you worse or not.
When it comes to negative reactions from vaccines, the preservatives and adjuvants are potential causes. Patients who have Hashimoto's antibodies may also have antibodies against common vaccine ingredients such as FORMALDEHYDE, MERCURY (thimerosal in vaccines), MSG, and EGGS.
Exposure to those ingredients can ramp up the immune system. I would recommend any Hashimoto's patient to consider taking the Cyrex Labs Array 11 test and Array 4 test to see if you have antibodies against these substances if you are considering flu shots. If you do have these antibodies, then you know that a vaccine that has those in them could potentially flare you up.
(Many people think that  mercury is no longer in vaccines, but it is still used as a preservative in multi use vials.)
Neurosurgeon Dr Russell Blaylock has written about the dangers of MSG for brain function due to its excitatory neurotoxic properties and how it can destroy brain cells. Many Hashimoto's patients suffer from brain fog, and MSG exposure has the potential to make that worse. Dr Mercola wrote an article about MSG and vaccines that you can read here: http://articles.mercola.com/sites/articles/archive/2002/06/08/msg-vaccines.aspx
Hopefully this will give you some info to make a more informed decision. Again I am not saying you should not get the vaccine, as that is a decision you should make after reading these inserts, taking those tests, and talking over this information with your functional medicine practitioner. If you have children, I would also recommend running those tests on them as well. If they have those reactions and you still want to get them vaccinated, you can talk to your doctor about receiving a formulation that is modified and does not include the adjuvants and preservatives that they react to.
For more info, be sure to to follow me on twitter @drkirkgair or www.Facebook.com/ThyroidInfo
As always, this article is for information purposes only and is not intended to replace your conversation with your licensed healthcare provider. This is not a pro or anti vaccine article, but instead is designed to give you resources to make an informed decision about what is best for you and your family.