Could Cold Laser Be The Next Big Thing In Helping Thyroid Patients?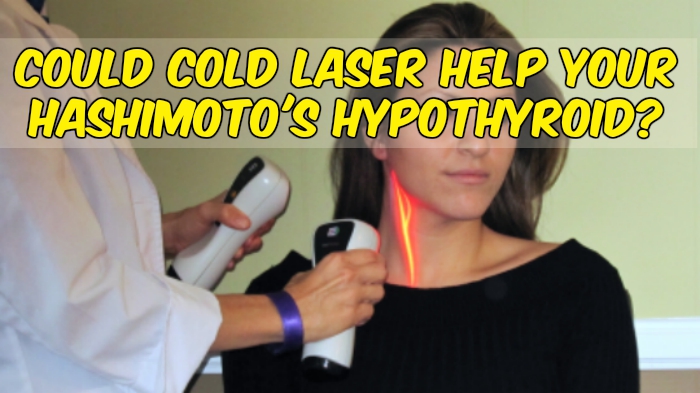 A lot has been written about the connections between Hashimoto's and gluten, environmental toxins, leaky gut, etc. However, very little has been discussed about the potential use for Cold Laser therapy, even though several recent research studies found some promising results.
Hashimoto's antibodies can lead to destruction of thyroid tissue, which can result not only in the symptoms of thyroid dysfunction, but also changes in thyroid appearance on ultrasound, and the presence of abnormal blood markers.
Currently, most traditional medical treatments aim to control the symptoms or get the TSH and T4 into the medical normal range while often ignoring the underlying root causes and the destruction that occurs in the gland.
The exciting thing about these studies on lasers and their effects on the thyroid is that they appear to not only trigger tissue regeneration, they also seem to help normalize function and decrease the need for medications, without any side effects.
The most recent study comes out of the July 2015 edition of the journal Photochemistry and Photobiology.  In this study, the thyroid glands of rats were damaged with gamma radiation, and then were treated with low level laser of 632 nanometers for 6 sessions. The study concluded that the laser improved the rats thyroid function, liver function, antioxidant levels, and blood cell markers. No side effects were noted. http://www.ncbi.nlm.nih.gov/pubmed/25975382 
The August 2014 edition of the journal Photomedicine and Laser Surgery found that cold laser treatment to patients with autoimmune thyroid disease significantly increased levels of transforming growth factor-β1 (TGF-β1). (www.ncbi.nlm.nih.gov/pubmed/25101534) Why is this important? The August 1991 edition of the Journal of Autoimmunity found that TGF-β1 could calm down and suppress auto immune attacks, and that it may even prove helpful in causing remission of Graves disease. (http://www.ncbi.nlm.nih.gov/pubmed/1777015)
Patients with autoimmune thyroid disease often have altered blood flow within the thyroid. The 2012 journal ISRN Endocrinology found that 10 laser treatments improved blood flow within the thyroid, as visualized with Dopplar ultrasound. (http://www.ncbi.nlm.nih.gov/pubmed/23316383)
But perhaps the most exciting study I came across was in the August 2010 journal Lasers in Surgery and Medicine. Patients were given 10 treatments over 5 weeks. They found that all patients needed less thyroid medication, including 47% who did not require any medication through the 9-month follow-up. Can you imagine being able to go 9 months without needing thyroid medication?
Furthermore, the medication dosage needed in the other participants decreased, and remained decreased even 9 months later. TPOAb (thyroid antibody) levels also decreased,  and thyroid tissue appearance improved on ultrasound. This means that thyroid tissue damaged by auto immune attacks was actually getting repaired with laser stimulation. Again, no side effects were noted. (http://www.ncbi.nlm.nih.gov/pubmed/20662037)
These are just a few of the exciting studies that support the use of lasers in thyroid disease, but the applications go even beyond just the thyroid. As far back as December 1993, there was a far reaching study from Japan in the Keio Journal of Medicine that found that laser therapy on cancer cells "inhibits growth and increases cell-specific destruction", and that "other immune system-related diseases, such as atopic dermatitis, some forms of eczema, asthma and asthma-related ulceration, have responded well to" laser therapy. I found numerous other studies that also suggested that cold laser was effective even for helping with thyroid cancers. (http://www.ncbi.nlm.nih.gov/pubmed/8126975)
So let's review what these studies found. Cold laser therapy was shown to:
Reduce TPO antibody levels
Reduce the need for T4 medications in a majority of patients, even 9 months after treatment, and eliminate the need in nearly half the patients in one study
Increase the amount of cellular antioxidants such as glutathione
Improve thyroid tissue and vascularization on ultrasound examination
Increase levels of transforming growth factor-β1 (TGF-β1), which calms down the auto immune activity and may have the potential to cause remission of Graves' disease
Decrease the activity of inflammatory molecules such as nuclear factor kappa beta and interleukin 6
Stimulate the repair of tissue damaged by the thyroid auto immune attack
Have no side effects
These are all pretty powerful findings. I was surprised to find the data going back over 20 years supporting cold laser's use on auto immune diseases, considering that most of us have never heard about it in mainstream media or from our doctors.
Obviously more studies are needed, but the current research suggests that lasers may provide significant help for the growing numbers of auto immune thyroid patients out there. Have any of you out there tried this therapy or heard about it from your doctor? If you have, please comment with what your results have been.
Please check out my facebook page at www.Facebook.com/ThyroidInfo, or follow me on twitter @drkirkgair.
This information is for informational purposes only and should not replace the diagnosis and treatment of your qualified healthcare professional. Do not undertake using a laser on yourself without proper evaluation and supervision of a licensed healthcare provider. As always, Dr Gair recommends that you seek the help of a healthcare professional trained in functional medicine and following their advice.